When you or a loved one is facing allegations of academic dishonesty or misconduct at Metropolitan State University of Denver , you can never take them too seriously. It is an unfortunate reality that such allegations could have a long term impact on your future—both your career and any academic future. Read on to learn more about the resolution process at MSU Denver.
Academic Misconduct and Dishonesty at MSU Denver
MSU Denver offers students a resource where they can access a variety of relevant academic integrity terms; this resource is designed to help students with the fact that "academic integrity can be complicated" because of various formats and writing styles.
According to their site, academic integrity standards are founded on the values of honesty, integrity, and developing original work. You'll want to be familiar with their definition of original work—as it is specifically work created for an actual assignment, not an earlier assignment or an assignment from a previous course.
Behaviors that MSU identifies as problematic examples are:
Plagiarism
Helping others commit academic misconduct
Having someone else complete your assignments or exams
Unauthorized assistance
Cheating
Fabrication
The Academic Misconduct Process at MSU Denver
MSU Denver does not provide many public-facing resources that detail the specifics of the academic misconduct process. They do, however, offer a flowchart with potential stages and steps. 
Here's a look at it: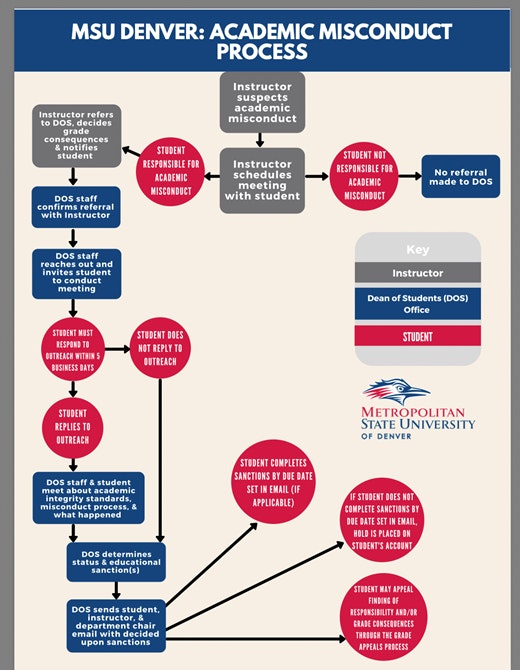 What Are Possible Consequences of Academic Misconduct?
The consequences of academic dishonesty depend on several factors. First, the instructor is responsible for deciding if there will be any grade consequences on the actual assignment or coursework.
After that, when the student conduct process is followed, there are two main types of sanctions. The first is educational sanctions—these are intended to educate, as one might suspect, and usually involve the completion of tasks. Some examples could include going to the writing center or tutoring center or writing a reflection paper.
The second type of sanctions is called status sanctions, and these impact your status as a student. Some of the more commonly thought of consequences fall into this bucket. Sanctions could include warnings, probation, suspension, and finally, expulsion from the school. Probation generally limits one's ability to participate in extra-curriculars and also indicates that if a second offense occurs during this time, the repercussions may be more severe.
MSU Denver notes that it's "highly unlikely" to be suspended or expelled if this is your first academic misconduct violation.
What Is the Appeal Process?
The most important thing to know about appeals at MSU Denver is that the student conduct process DOES NOT overturn the instructor's decision regarding responsibility for the academic integrity violation or for the grade consequence. So, there are two separate appeal processes, depending on what you want to appeal, specifically. Let's take a look first at the appeal process for the instructor's finding.
A student must file a Grade Appeal before the end of the fourth week of the semester following the completion of the course. Practically speaking, this means that if a course concludes in the fall, you have until the fourth week of the next semester to start your grade appeal. The first step is to meet informally with the instructor. If that informal resolution is not to your satisfaction, the next step is to meet informally with the chair of the department.
After that step, you can file your formal Petition for Grade Appeal with the dean of the appropriate college. This must be done by the last day of the fifth week (following after the fourth week mentioned above). When you submit the petition, you must include:
A statement that explains how the appeal meets one of MSU's four criteria for a formal grade appeal
A copy of the course syllabus and class policies (if relevant)
Any relevant documents
All graded materials from the course that are still in your possession/were returned to you
A description of what occurred during the informal resolution process
The dean will decide within 15 working days whether or not there are grounds to proceed, and if so, will gather all involved parties for a meeting. If the appeal is not resolved at this meeting, the dean will send a letter to the student notifying them. Then the appeal may move on to the Grade Review Committee(GRC). In order to do this, the student must notify the Vice President for Academic and Student Affairs that they wish to do so within five working days of receiving the notice from the dean.
The GRC will meet and decide, within 20 working days, whether or not to hear the appeal. If they do hear the appeal, the GRC will decide to either deny or grant the appeal. Their decision is final and cannot be appealed.
The second appeal process is the process to appeal the sanctions that the student conduct professional gave you. For this, you have five working days from the receipt of your decision letter to submit your appeal.
The conduct appeal form is here and requires you to choose one of four criteria as grounds for appeal and then attach a separate letter with any evidence. The appeal process is completely in written format, not any sort of hearing or committee.
Experienced Attorney-Advisor for MSU Denver Academic Dishonesty Defense
Academic dishonesty allegations are not to be underestimated, and having help from someone who's worked with countless cases on a national basis can offer an advantage to navigating MSU Denver's resolution process. Attorney Joseph D. Lento and the Lento Law Firm are dedicated to and passionate about a student's rights to due process, and they will work by your side and fight on your behalf, if necessary. Call Attorney Lento and his team at the Lento Law Firm today at 888.53.3686 or contact them online to learn more about how they can help you or your loved one.